Posted by Debbie on 16th Jun 2016
I recently enjoyed a stay in Portland, Oregon with my husband. While there last week we strolled through the Japanese Gardens, drove the Historic Columbia River Highway with its incredible views and numerous beautiful waterfalls, stopped in at the Portland Waldorf School Store and, of course, ate some delicious food.
I also had the pleasure of meeting Lia Griffith and her creative staff and am pleased to announce we partnered on an adorable sewn sea creature project made from our Holland Wool Felt. Lia is a blogging designer and crafter full of enthusiasm for creating and sharing projects for kids crafts, home decor and more. Her website is a gold mine of inspiration and DIY tutorials and now includes this soft Felt Octopus Stuffie.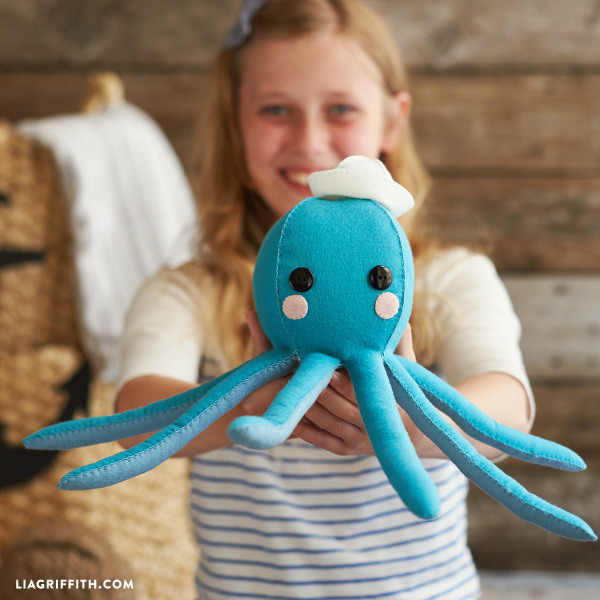 Introductory sewing projects can be a great way to spend some quality time with your little ones while they learn useful lifelong skills. If you are looking for an engaging and educational summer activity to do with your kids, making this felt octopus is a wonderful DIY project that does not involve a screen!
Begin by picking out some colors of Holland Wool Felt for your octopus. We used Aquamarine for the octopus's body and Cool Blue for its underside. White was perfect for the sailor's hat and Blush was used for the cheeks. You will need 18 x 18" sheets (one of each) for the blues, and 8 x 12" sheets (one of each) for the White and Blush. The specific colors, however, do not matter so feel free to explore your creativity with this one! Other than the felt, you will need two ¾" black buttons for the eyes, poly-fil or Eco Wool to stuff the body, and pipe cleaners to make the legs bendy.
Find a complementary color of embroidery floss to stitch the project together. Once you have your materials, print out the PDF template and use as a guide for cutting your felt then follow the step-by-step photo tutorial for the specific steps to create this project.
The majority of this project requires a blanket stitch. The first step in sewing your felt octopus is stitching the four body panels together. When stitching the legs, glue 1-2 pipe cleaners to the inside of the felt. Then, add wool stuffing and stitch the body closed. The sailor's hat is optional, but it does make for an adorable addition. For a more advanced sewing project, you can also stitch an anchor design or sailor's knot into your octopus to give it some extra flair. Craft this felt project together with your children, or give this nautical friend as a gift.
Enjoy!