Posted by Debbie on 5th Nov 2014
Maybe you remember your favorite doll? It kept you company day and night, attended your tea parties, sat on your lap during story time and shared your childhood ups and downs. Your doll was someone to love and care for, a faithful and beloved companion indeed and one you will probably never forget.
Now as an adult contemplating a doll to sew, this could be your first doll making project, maybe you're experienced and are ready to add new skills or perhaps you're excited to sew along with a youngster in your life. Whatever the reason, A Child's Dream makes it possible for you to sew a soft and memorable Waldorf doll which becomes imbued with love with every stitch.
We carry several Waldorf doll making books and all of the Joy's Waldorf Dolls 13 patterns and kits along with a comprehensive assortment of natural fiber doll making fabrics, tools and supplies. You can see them all in our Waldorf Doll Making Section.
CHOOSING A WALDORF DOLL TO MAKE
Need help choosing a doll to sew? Here are some guidelines to get you started:
Select a doll or dolls from the Age Recommendations for Play
Determine your Level of Experience
Read our Patterns and Skill Level Recommendations
AGE RECOMMENDATIONS FOR PLAY
Doll height is in parentheses. All patterns and kits can be found in our Waldorf Doll Making Section.
BABY TO 3 YEARS - cuddly soft dolls with clothes that don't come off or are simple to change.
Star Child (6") and Bunting Baby (6"/10") made without hair, which can present a choke hazard, make lovely new baby gifts. Star Child is easy to grasp and can be teethed on. Baby Bunting is a squishy pillow style doll.

Bright Eyes (12") is a floppy huggable doll for a 1st or 2nd birthday present if the doll is made without hair, which can present a choke hazard. Also a nice gift for the young child upon the arrival of a new sibling.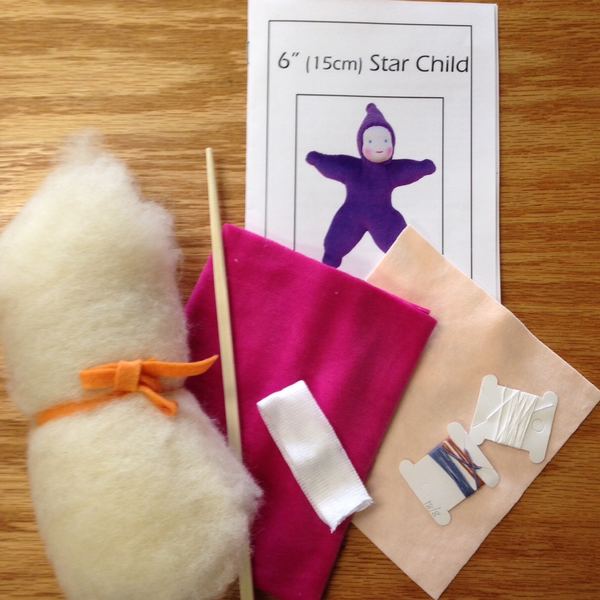 3 YEARS AND OLDER - baby dolls and child dolls with clothes that can be changed and in the case of Child Dolls hair that can be styled.
A DOLL FOR A DOLL
Teeny Baby (6") with Sling for the child who already has a 16" Honey, Button Child or similar size doll needing a baby of its own.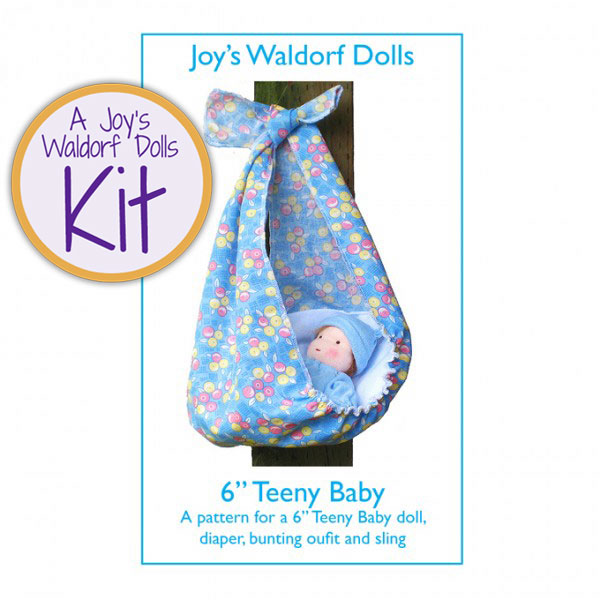 CHILD DOLLS
Pocket Love (8"), Brother/Sister (10"), Little Love (13"), Honey Doll (16") and Button Children (16") are child dolls. They come with patterns for children's clothing and instructions for a variety of big girl and big boy hairstyles. A friend for the child who enjoys styling hair (keep hair tied back until old enough), dressing and undressing their doll and would love a buddy.
Pocket Love is a small dressing doll with a simple outfit and shapely legs. Children who love little things love these wee pocket friends. (age 4 and older, may be a little small for a 3 year old to change clothes on)
Brother/Sister, Honey Doll and Button Child have shapely legs and cute feet for wearing shoes.
Brother/Sister has clothes that are easily slipped on and off.
Little Love is the traditional style Waldorf doll with round feet. One of our most popular dolls.
Button Child can sit by itself for tea parties and stand when posed just right. It has slender arms and legs and a shapely bum.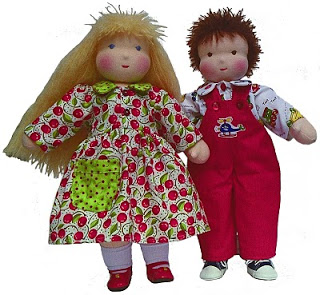 BABY DOLLS
Button Babies (9"/16"), Baby Companion (14" + 16") and Baby Jess (19") are baby dolls with simple, short hairstyles and patterns for nightwear and diapers only. Baby dolls make super gifts when there's a new baby in the house.
Button Babies is a pattern for two dolls! Each can sit by itself and with button joints the pudgy baby arms and legs can move freely. Both have shapely bottoms.
Baby Companions, for as young as 18 months, have separate limbs which makes them a bit harder to sew but this adds to their stability and endurance. They come in two sizes and have curvy, realistic bottoms and will put up with lots of hugs, love and play. Sweet and adorable. When they do need repair you'll find them easier to mend than Button Dolls because there is no stringing of joints involved.
Baby Jess is a life-size doll with a comforting weight, much like a new baby. Jess can wear newborn clothes. This is a wonderful realistic baby doll if you're up for the challenge.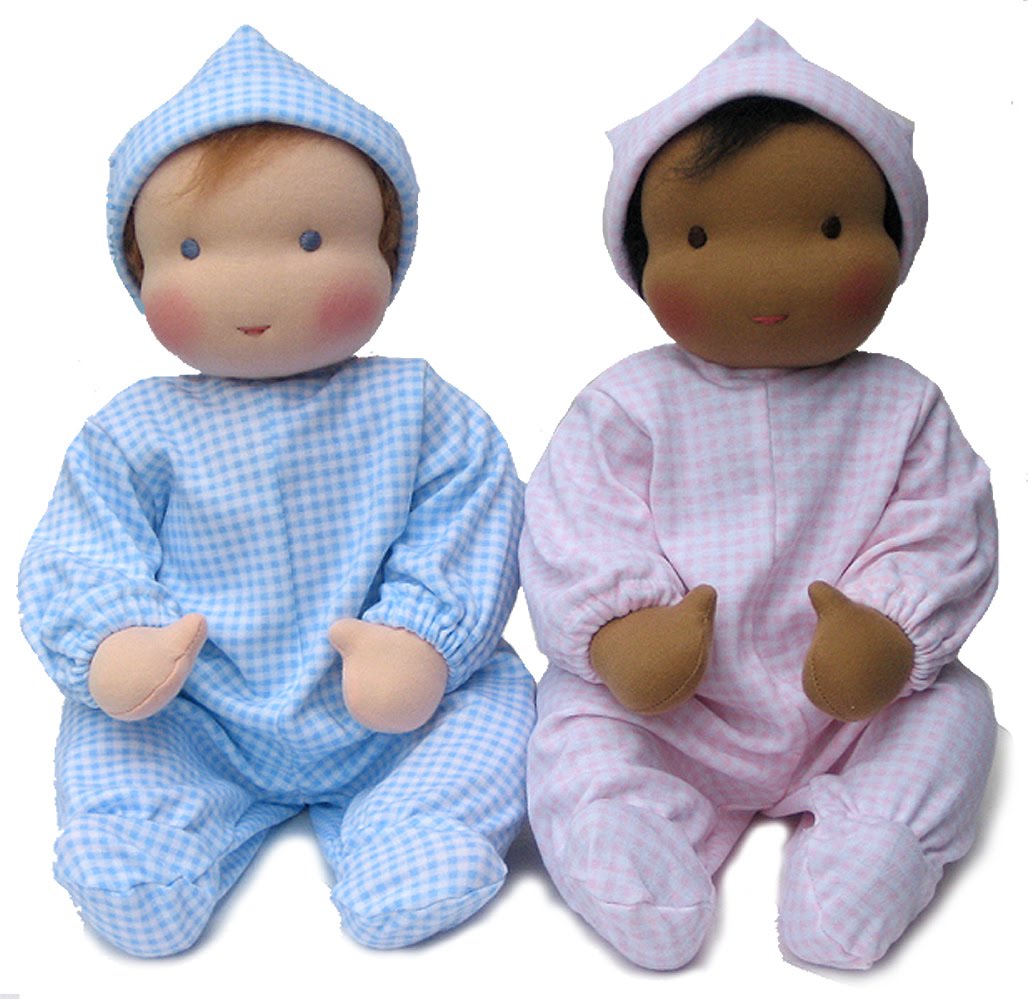 WHAT IS YOUR LEVEL OF EXPERIENCE?
Basic sewing skills are needed to use a pattern, kit or book.
Beginner - new to doll making or looking for a simple project
Intermediate - already have experience and ready to try something a bit harder
Intermediate to Advanced - more new skills to learn, somewhat difficult
Advanced - for the very experienced, definitely challenging
PATTERNS AND SKILL LEVEL RECOMMENDATIONS
BEGINNER (age 9 and up): Baby Bunting (6"/10") with help from an older sibling or adult.
BEGINNER (ages 13 and up): Star Child (6"), Teeny Baby (6") with Sling, Bright Eyes (12"), Brother/Sister (10")
BEGINNER TO INTERMEDIATE (age 13 and up): Little Love (13"), Honey Child (16")
INTERMEDIATE (age 13 and up): Pocket Love (8"), Button Baby (9"/16"), Button Child (16")
INTERMEDIATE TO ADVANCED: Baby Companion (14"), Baby Companion (16")
ADVANCED: Baby Jess (19")
Lots of choices as you embark upon or continue your doll making journey and adventures! Please let us know if we can answer any questions. We are here to help you make you and your child's dreams come true.